Equalizer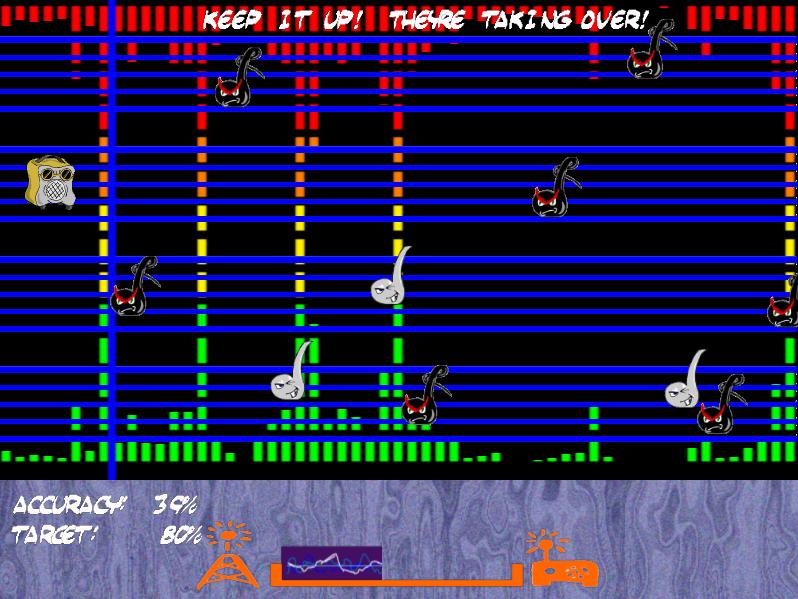 Our presentation after the project was completed.
Overview:
Equalizer was created in 48-hours during the first ever Global Game Jam event. The purpose of the Global Game Jam is for people who are passionate about making games to come together and try to make a full game in just 48-hours!
In Equalizer you play as a small radio that shoots sound waves to neutralize the bad notes that will create dissonance in the song if they get through your defense. All of the notes are generated on beats found in the song. The number of bad notes that you will face are based off the difficulty selected.
Due to the time constraints of the project, the game is not 100% complete and bug free. Originally we had our beat algorithm working well, but after spending more time on it, the quality went down. In order to meet the fast approaching deadline we decided to leave it where it was and continue with other functionality of the game. Even though we didn't get the game to where we wanted it, we are very proud of what we accomplish in 2 short days!
Key Info:
Global Game Jam
48 hour team project: February 2009
5 member team: Alyssa Dettling, Glenn DiGirolamo, Christopher Hayes, Dakota Humphries, Sean Murray
Role: Animation Programmer
Implemented an animation engine from a previous project.
Created all animations using assets provided from our artist and an animation editor from a previous project.
Used the FMOD API to analyze song files for sound beats to spawn the music notes.
Downloads:
Equalizer.zip